Why I removed windows from my tablet
I have a HP Pavilion X2 10-n105nl: an hybrid laptop/tablet with detachable keyboard and touch screen display. I bought it in 2016 in order to take notes at university with its keyboard and a Dell active stylus. It did its job pretty well, and for 210 euro I cannot complain.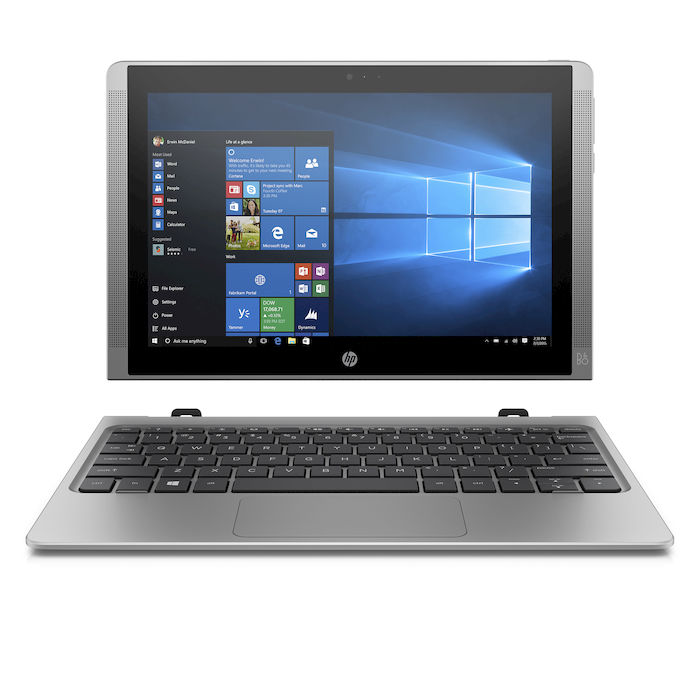 However, time passes and windows gets bigger apparently. Now when it tries to download windows updates it complains that I have not enough space on the hard drive. So, I removed everything I installed on it, I created a new user and removed the old one. And the problem is still there. Even if I follow windows instructions and I put an external storage (a 64GB usb stick), it still needs additional 8 GB of free internal storage, which simply cannot be obtained, since almost all the available space of this tablet is occupied by windows itself.
Of course, using a laptop without security updates is not an option, but even if you consider it, windows became really slow on this device, even if you just browse the web.
Basically this tablet became obsolete only after a couple of years.
Let's try linux on a tablet
During these Christmas holidays I had a lot of free time, so I decided to try to bring back to life this "old" laptop by installing Linux on it. I have to be honest, I didn't have a lot of hopes because in my mind linux was not good on detachable tablets.
First I tried pop os 19.10 and ubuntu 19.10. Since on my main laptop I run arch linux, I wanted to have a debian based machine. Well, I tried Bluetooth, wifi, touch screen and.. They all worked great! I was really surprised and happy to see this out of the box experience with linux on a tablet. The only problem was the speakers: no sound at all 😞
I looked online in order to find a solution. I tried a couple of those on Pop os, but my laziness suddenly struck a critical hit, so I thought:
why don't we try manjaro and see if sound works out of the box?
So I downloaded Manjaro 18.1.5 KDE version, which is a DE I wanted to try. And yes! Sound worked out of the box, together with all the other things I tested before. If you are curious, I have 19,4GB of free storage even if manjaro KDE comes with too much a lot of software preinstalled like libreoffice and thunderbird.
Now I am comfortably writing this article on a plane, thanks to my small 12" manjaro linux tablet 😃
Is it perfect?
Of course I bet that linux on this device doesn't do everything right, expecially without further tweaks. For example, one thing I noticed is that after that I close the lid, the device suspends correctly, but when I reopen it the touchpad tap to click doesn't work anymore.
I am sure that there are other little things like this that I haven't encountered yet (this is not my main machine), but.. hey, at least it works!
Installation instructions
In the following I put a short overview of what I did. If you have more specific question, please leave a comment down below.
If you do not own this device you may not be interested in this chapter. In this case move to the end of the article for the conclusions.
Save your windows licence
Open windows prompt with admin priviledges and type

wmic path SoftwareLicensingService get OA3xOriginalProductKey

Write down your windows license because you never know.
Backup your data
They will be erased, together with your windows install.
Update your bios
Go to the hp support page of this tablet and download and install the latest bios version. At the time of writing it's the F.18 Rev.A version. I installed it through their windows program without problems.
Flash manjaro ISO
Put manjaro image on a USB stick. I used etcher to flash it. Plug the USB stick in.
Disable secure boot
Reboot your laptop and press Esc repeatedly before the HP logo appears.
Press F10 to go to BIOS Setup
Go to System Configutation tab
Select Boot Options
Select Secure Boot and disable it
Press F10 to save and exit
Congratulations, you are now free to install whatever operating system you like on your machine 😄
Change boot order
Reboot your laptop and press Esc repeatedly before the HP logo appears.
Press F9 to go to Boot Device Options
Change boot order in order to place USB disk first.
Reboot the machine to boot into your USB stick, which contains the manjaro image.
Install manjaro
Once you have booted into manjaro try if everything works and if you are happy install it! I choose the option to completely remove all the data on the hard disk and install manjaro on it. Furthermore, I didn't created a swap partition in order to save space on the hard drive.
Conclusion
If you like me tought that linux was not ready for hybrid tablet/laptop devices, I hope you changed your mind at this point. If you have a device of this type that is not working as expected with windows, you can give linux a chance by trying it without installing it with a live distro on a USB stick.